Update 31/08/2016
Devotees would have noticed that at present our temple interior works and community hall upgrades are well in progress and expected to be completed by mid to end September 2016. Currently, insulation cladding, plastering and painting of the walls is underway as well as work on the wash room, toilets, ventilation and sound proofing.
As the work that is presently underway is directly linked to our consent requirements, we have borrowed another $250k to fund it. We have also neg…otiated overdraft facilities of $250k to support this. The loan is serviced through regular contribution of around $2,500 per month by the devotees. This leads to a gap of around $7,000 per month. Part of this gap is bridged through the various fund raising activities that we carry out. We are making an appeal to the community to join the regular contribution scheme to help with the monthly mortgage payments. Members and devotees are also welcome to support the project by way of financial or material donations.
The temple bank account number is: 12-3077-0455971-00. Please remember to include your name. Please note that all donations to the temple are eligible for tax credits.
We sincerely apologise for any inconveniences caused during this construction period and thank you for your generosity and support till now in helping the temple grow.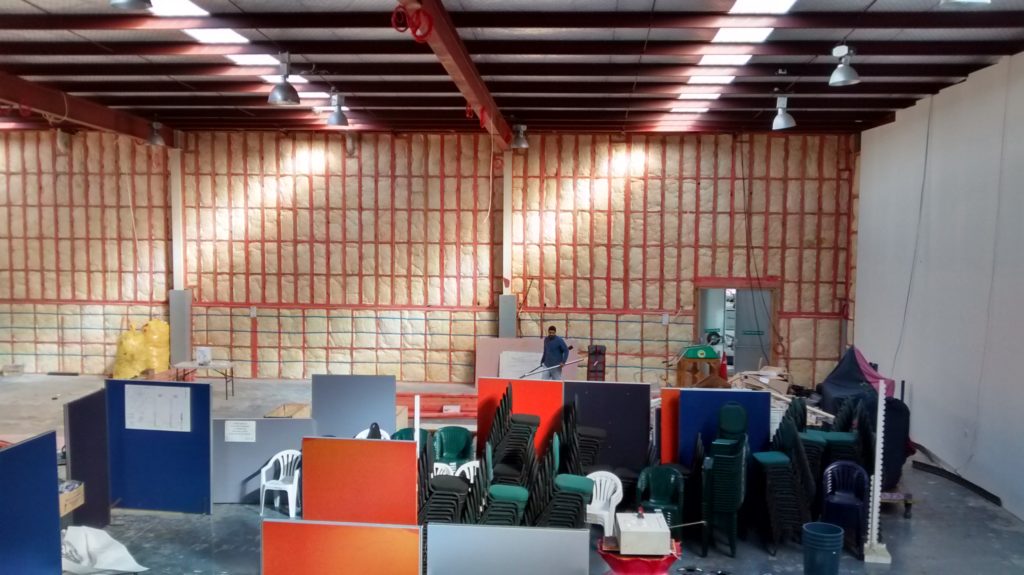 ---
NEW ZEALAND THIRUMURUGAN TEMPLE
145 Church Street, Otahuhu, Auckland 1062, New Zealand
NOTICE OF MAHA KUMBABISHEKAM
"Aruvamum Uruvam Aahi Anaathiyai Palavaai Ontraai
Brahmmaai Ninra Jothip Pilambathor Meniyaahak
Karunai Koor Muhangal Aarum Karangal Pannirandum Konde
Oru Thirumurugan Vanthaangi Uthiththanan Ulaham Uyyiya"
Dear Devotees,
With the grace and blessings of the Almighty, we are delighted to notify all members, devotees and well-wishers of the details of the Maha Kumbabishekam (Consecration Ceremony) of the new Thirumurugan Temple located at 145, Church Street, Otahuhu.
The Priests, the Board of Trustees and the Management Committee warmly extend invitation to everyone to seek the blessings of Lord Muruga and attend the Maha Kumbabishekam ceremonies commencing on Wednesdsay, 4th June 2014, culminating with the Maha Kumbabishekam on Sunday, 8th June 2014.
Programme Details (this is a summarised version – click here for the Tamil version with more details )
Wednesday 4th June 2014    5:00 PM
Maha Sangalpam, Ganapathy Homam, Navagraha Homam and other ceremonies concluding with prasadham
Thursday 5th June 2014     9.00 AM
Vinayaka Pooja, Agni Pooja, Rakshabanthanam, Prasanna abhishekam and other poojas concluding with prasadam
Thursday 5th June 2014     6.30 PM
Vinayaka Pooja, Yaaha Pooja, Theeparathanai concluding with prasadam
Friday 6th June 2014                   9.00 AM
Vinayaka Pooja, Yaaha Pooja, Agni Pooja, Malamanthra Homam, Theeparathanai, Prasadm
Friday 6th June 2014                   6.30 PM
Vinayaka Pooja, Yaaha Pooja, Agni Pooja, Moolamanthra Homam, Luxmi Pooja, Sumangali Pooja, Theepa Pooja, Theeparathanai, Prasadm
Friday 6th June 2014 10.00 AM to Saturday 7th June 2014      2.00 PM
Ennai Kaappu (Anointing ceremony)
All devottees are invited to take part in the Ennai Kaappu ceremony
Saturday 7th June 2014      9.00 AM
Vinayaka Pooja, Yaaha Pooja, Agni Pooja, Homam, Theepaarathanai, Prasadam
Saturday 7th June 2014      5.00 PM
Vinayaka Pooja, Yaaha Pooja, Rakshapanthanam, Chanting of mantras, Theepaarathanai, Prasadam
Sunday 8th June 2014                  8.00 AM
Maha Kumbhabishekam
Annathanam
Sunday 8th June 2014                  6.00 PM
Special Pooja, Vasantha Mandapa Pooja, Prasadam
Maha Kumbhabishekam will be followed by Mandalabhishekam for 45 consecutive days.
---
Update 12/05/2014
The construction continues! The new shrines are taking shape, here is the progress so far: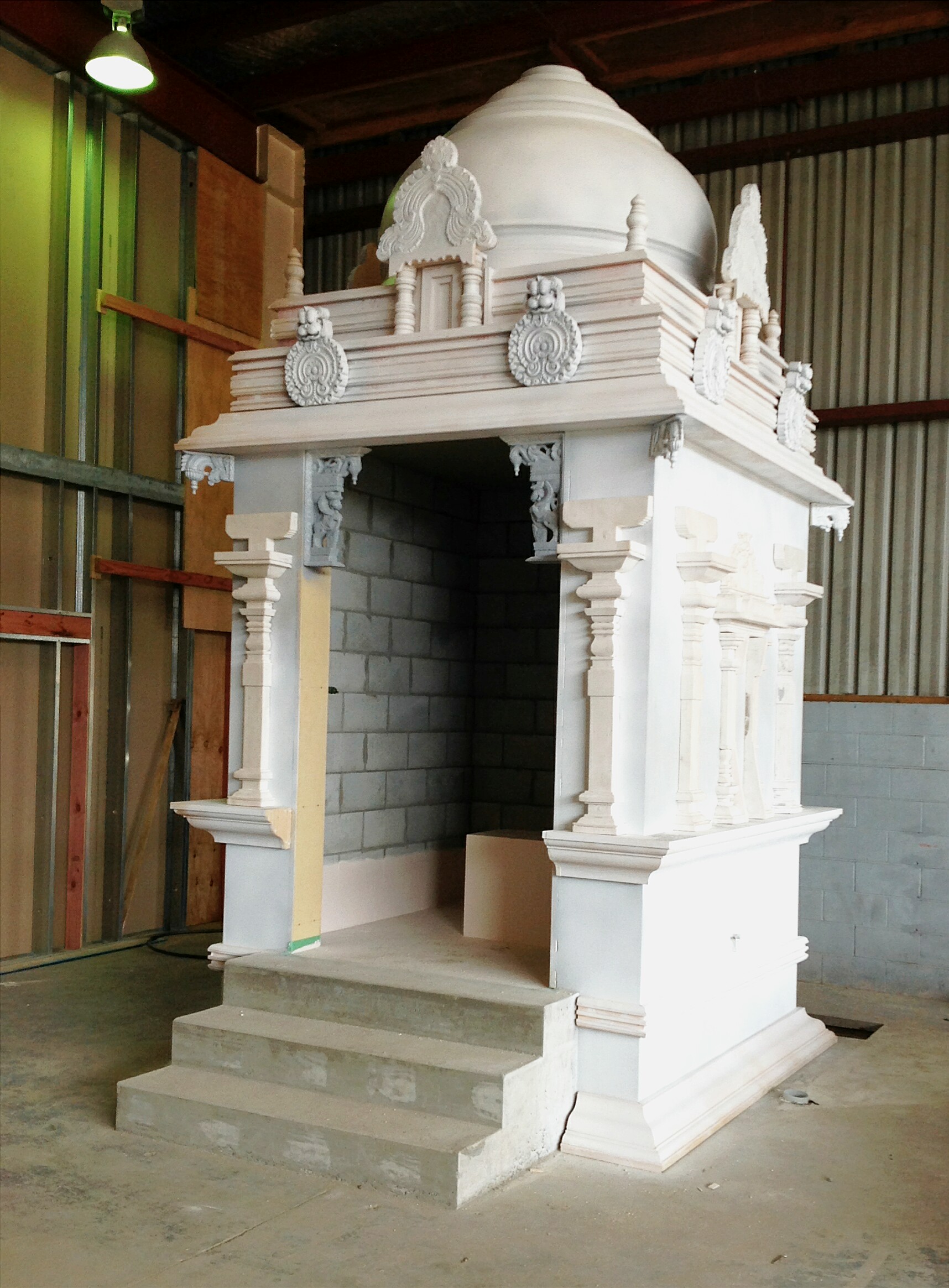 ---
Dear Devotees,
We are humbled and delighted to advise you that with the grace and blessings of the Almighty, our Thiru Murugan, we have taken a significant step towards establishing our very own temple with all traditional norms and features for our community.
The purchase of the property at 145, Church Street was confirmed on Friday, 28th Sept and discussed in detail at the Society's AGM on Sunday, 30th Sept. We are very humbled and grateful for the positive feedback from everyone present at the meeting and for many valuable suggestions. We have provided all relevant details in a FAQ (Frequently Asked Questions) format and please do feel free to contact us if you require any further information or clarifications.
Why do we need to move from the present location?
The Society's goal has always been to construct a traditional temple for our community and in particular for our next generation. The current property has a number of constraints that does not suit building a fully fledged temple. Further, being next to a waste disposal company, the associated traffic hazards and the visual appearance to some degree are factors that do not support a long term presence.
What criteria did you use to select the location, size of the building, etc?
Earlier this year, we completed a comprehensive scoping / feasibility project to identify the following key criteria:
The advantages and disadvantages in the current location

Options available within the current location

Reasons for the need for another location

The domicile of the temple population

The ideal boundary within which to locate the new temple – central location

The ideal layout / improvements / features sought in the new temple

Financial Scenarios
This exercise helped us to establish greater clarity on the way forward.
Where is the property and what are the details of the property?
The property is on the fringe of the CBD at Otahuhu and within a short distance from the motorway on/off ramps for travelling either north or south. The land size of the property is 3,625 m2. The buildings includes ground floor of 1,285 m2, office space of 386 m2 and a canopy of 630 m2.
What are the key features of the proposed plan?
Our vision is to make this a temple with all traditional norms and features including appropriate sannidhi for Maha Ganapathi (மஹா கணபதி), Thiru Murugan (திருமுருகன்), Raja Rajeswary Amman (ராஜ ராஜேஸ்வரி அம்மன்), NavaGraha (நவக்கிரகங்கள்), Vairavar (வைரவர்), Bala Lingam (பால லிங்கம்) and Eluntharuli Swamigal (எழுந்தருளி சுவாமிகள்) that includes Lord Rama. It will have Kodikkampam, Pali Peedam, Raja Kopuram etc and will have the facility to do "veethi valam" around the complex. The new complex will also have a multi-purpose community hall for weddings, classes, library, meetings, fund raising programmes, welfare type of activities and other community related activities.
How is the project going to be funded?
The purchase of the new building is funded through a combination of bank loan and Temple's savings, built over the last 10 years. Additional funding will need to be raised for renovation and shrine construction. We are appealing for the community's generous help with:
Regular donation to service the bank loan repayments
Funding for renovation and shrine construction
What is the project timeline?
We are working towards relocating to the new temple around mid 2013. The timing is dependant how quickly we are able to raise the necessary funding and complete the work. We will not be able to complete everything before that and some non-urgent work will be delayed for a later time.
What is going to happen to the current building?
Our bank loan includes a short-term borrowing until the current property is sold. The bank has given us a maximum of 12 months to do this. We will be looking to sell the property around mid 2013 to pay off the temporary loan.
What are the next steps?
We have applied for resource consent and are expecting confirmation in the new future. Following that we will be completing the detail plans and applying for building plans. We like to be able to commence work as soon as the building consent is granted.
How can we be part of the project?
There are a number of ways we would like you to be part of it. Firstly, we need your moral support as collectively we have a large but very worthy project ahead of us for our community. We need your generous help with the two aspects of financial needs. We also would like you to get involved and part of the project in moving forward.
If you wish to find out more information about the financial help, please feel free to contact the following finance team members: Mr Aravindakumar (021 594 497), Mr Krishnaraj (021 790 142), Mr Srikumar (027 577 4064) or Mr Sathiyaselvan (029 282 7395).
Please note that as a registered charitable organisation, all donations made to the Society are eligible for a tax credit of 33.3%. We undertake to give receipt for all one off donations immediately and for all regular donations, no later than 15th April.
Please do contact us if you require any further information.
"மேன்மைகொள்சைவநீதிவிளங்குகஉலகம்எல்லாம்"
Management Committee
NZ Thirumurugan Temple